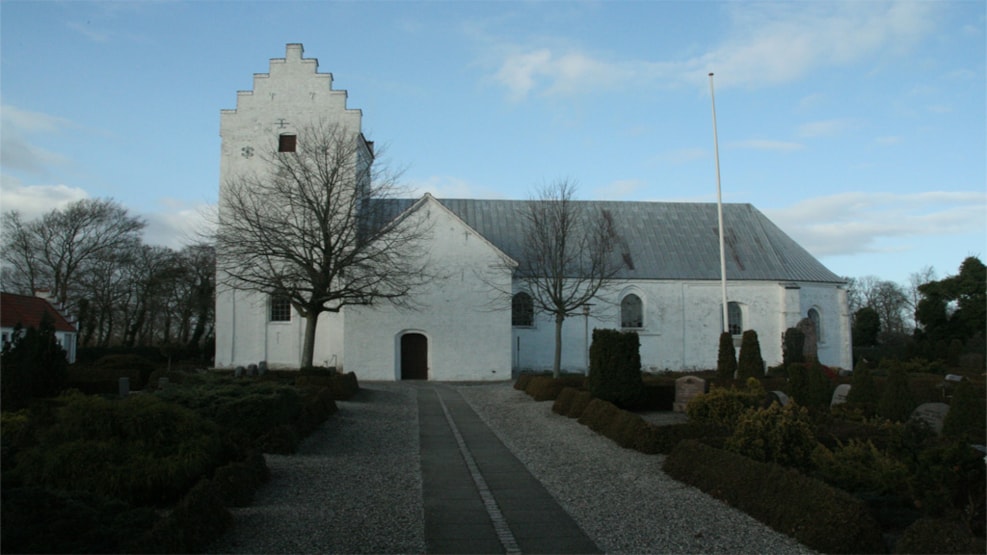 Voldby Church
The oldest parts of Voldby church, that is, the ship, the choir and the lower part of the tower, date from around 1200 - Romanesque times in other words.
Voldby church is one of East Djursland's 9 chalkstone churches, which is just for all the time that medieval church builders have had easy access to the chalkstone in the nearby Sangstrup and Karlby cliffs. It is therefore not surprising that the neighboring churches in Gjerrild, Karlby, Hammelev, and Enslev are also chalkstone churches.
Unlike the hard granite, the chalkstone is easy to process and the churches mentioned also have all the decorative decoration in the form of finely carved apertures. In the 1300s, the church was rebuilt, raising the masonry and converting the chancel into a longhouse choir. In the following century, the porch and the sacristy came into being.

Church frescoes were made in the years immediately before the Reformation, in particular in 1520. In addition to symbols for the evangelists and a number of grotesque creatures, there are fine ship images, among other things, of an impressive warship considered to be the oldest depiction of a warship in a Danish church.
Frescos:
Church frescoes from ca. 1520 is cited in 1891:
Top of the chorus: Ranked decorations and geometric figures and Arhus Bishop Jens Iversen Lange's weapons.
First Vault: Four angels with the four evangelist symbols emblazoned on coats of arms.
The key can be borrowed. See notice at the church.